Jeff White
E-Author
Writer of adult literature for e-readers
Richard was on his stag night. His friends hired a stripper, who let Richard go a lot further than Helen, his fiancee, would have allowed from the only man she had ever slept with.
Her two colleagues at work, who had been at the stag night and were no angels themselves, accidentally let Helen find out. When she needed comforting, they were on hand ....
Lydia was a clerk in a law firm hoping to better herself, and when she met the hugely wealthy Sir Gerald Brenster, following the sad death of his first wife, the opportunity arose.
The idea of being faithful to him never occurred to her, and even on their wedding day, she had a series of raunchy encounters, starting with the photographer!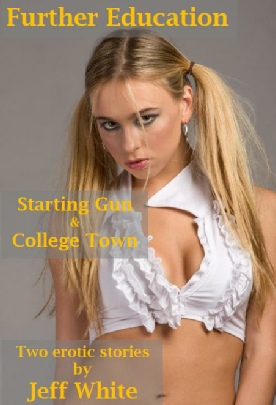 Two erotic short stories: Starting gun tells of four days in the life of Megan, a sixth former with a high sex drive and a determination to get what she wants, even if the authorities would not approve.
College town is the story of Rebecca, whose alter-ego Alice is paying for her university education by selling her sexual services to frustrated women, while Rebecca is falling in love with Tristan
Continuing the story of Megan's introduction to a variety of the delights of love. In Further Education, she first let herself be seduced by her young Chemistry teacher; now as she continues with her private blog, she lets him take her further down unexpected roads, while passing on her lessons to her true boyfriend. And female teachers may not be immune to the charms of pretty sixth-formers!
Click image to buy at Amazon
Click image to buy at Amazon